CURRENT: Contemporary Art from Scotland Phase Four
Curator:Sophia Yadong Hao
Artists:Nashashibi/Skaer, Corin Sworn
Date:5.22.2021 - 8.22.2021
Venue:OCAT Shenzhen, Hall A/B
There is no full stop to 'the contemporary'.
With no conclusion, not even grammatical, 'the contemporary' refuses to stop. No pause for breath or rest in which to catch a glimpse, an illumination of what 'now' might be. Instead, revelling in an associative fugue, 'the contemporary' is inexhaustible and all encompassing.
Shuffling and swapping, substituting and mirroring, 'the contemporary' upsets and disrupts what is seen, known and imagined. In this discursive frenzy, metamorphosis and transformation operate as principle and technique, calculated then deployed to efficiently and so industriously extract and unsettle.
Querying and queering historical details, cultural capital and techniques of revolutionised management, Phase Four of CURRENT: Contemporary Art from Scotland captures a passing likeness of 'the contemporary' in all its immediate and impatient necessity.
Encompassing two exhibitions from Corin Sworn and Nashashibi/Skaer, Phase Four of CURRENT dissects the fictions, meanings and truths absorbed and transmitted by 'the contemporary'. Juxtaposing chronologies and histories, the exhibitions critically interrupt the singular discursive economy of 'the contemporary' bringing tempestuous visions of 'now' into a meditative pose.
In this final fourth phase following previous iterations in Beijing, Shanghai and Wuhan, CURRENT arrives in a 'city of the future', Shenzhen. Resisting the appeal of that future, CURRENT focuses on the inherently discursive choreography of 'the contemporary', a concrete reality disciplined by the circumstances and radical insights that constitute this untimely moment.
Chimera
Traversing mythology, nature, language and interpretation, Chimera, the exhibition by Nashashibi/Skaer—the joint practice of Rosalind Nashashibi and Lucy Skaer—brings a specific perspective to the visual fabric of 'the contemporary' through the lens of their artist's films.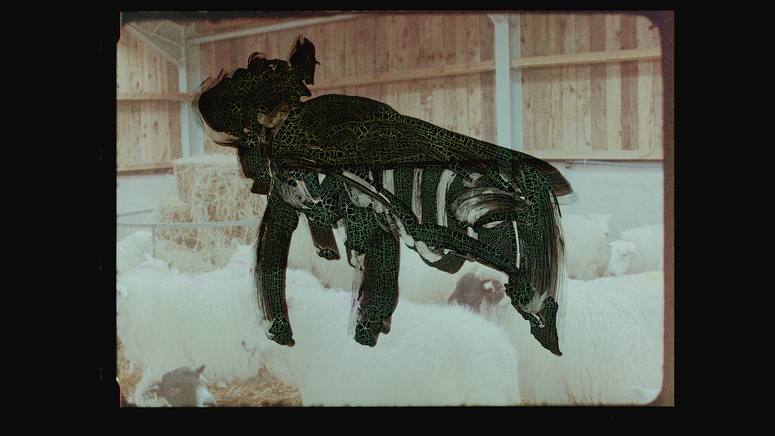 Chimera examines the act of looking and the transformative potential of film by reprising Paul Nash's evocative painting Flight of the Magnolia in Our Magnolia, and blurring the distinctions between the wild and the farmed in Lamb and its sequel, the newly produced film Bear. Featuring a soundtrack developed in collaboration with Cantonese Opera artist Zhuo Peili, Bear elucidates the protean metamorphosis underpinning the real. Bear also provides the starting point for a new print work developed in collaboration with Shenzhen based artist Xu Zhiwei.
In Chimera Nashashibi/Skaer expose the slippages of context and meaning implicit in moments of transformation. Calling forth a mythic territory rife with contested cultural histories and unsettled archetypes, Chimera deploys the associative visual logic characteristic of our unstoppable contemporary, challenging us to visually speculate on the inherent uncertainty of the real.
Variations of Assembly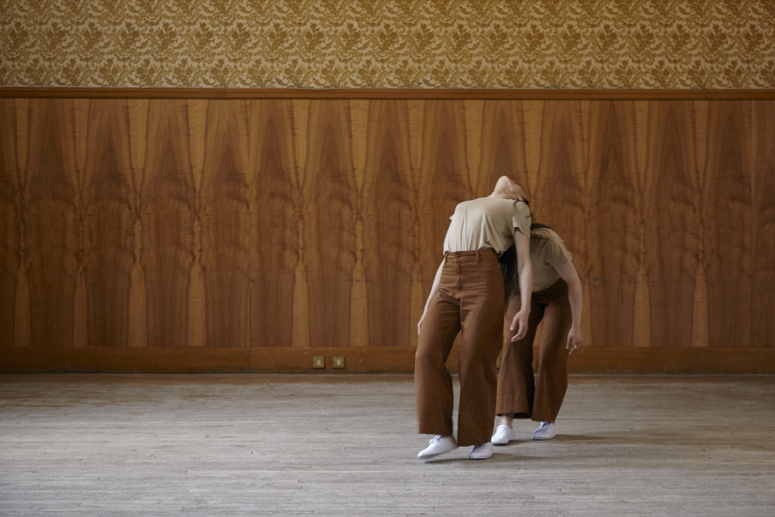 Focused on significant but underrepresented historical narratives, Corin Sworn's solo exhibition Variations of Assembly captures cultural fragments to build scripts, performances and distributed narratives that bind both true and imagined stories into startling new meanings.
Featuring a new multi-media installation Habits of Assembly II and artist publication Folding Vesuvius, Sworn's work encompasses architectural augmentation, sound, video and dance to explicate the undercurrents of monitoring, movement, sincerity and drive which score the motion of 'the contemporary'. Indexed by early 20th Century time-motion-studies, Habits of Assembly II elaborates a critical history of 'task performance'. Underscoring the false claims to virtuousness declared by efficiency, a driver of industrial discipline, Sworn reveals the tasked body to be a layered and complex organisation akin to the factory, but also a symphonic alignment of biological noise.
Created and written specifically for this exhibition, the poems and images in the artist's publication Folding Vesuvius explore the modes of assessment folded within and often away from managerial systems. Presented in both Chinese (translated by Chinese writer Chen Dongbiao) and English, the poems initiate an indistinct zone in which metaphors bend and knowledge systems become supple. Distorting linear navigation whilst facilitating and coping with difficulty, the poems and images in Folding Vesuvius offer a sensory reaching towards 'the contemporary'.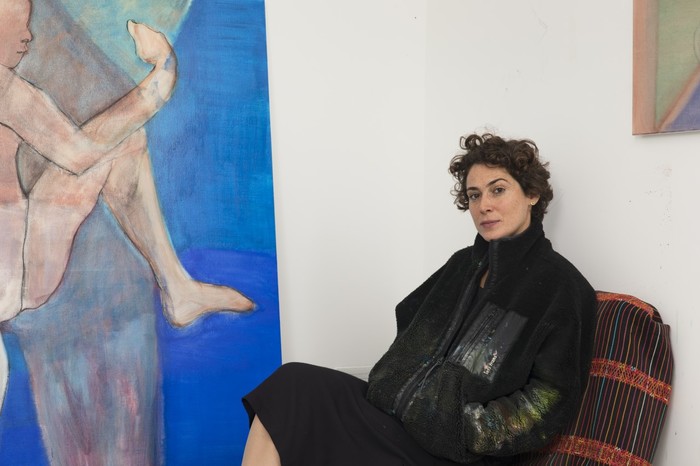 Rosalind Nashashibi
Rosalind Nashashibi (b.1973, United Kingdom) is a London-based artist working primarily in film, painting and printmaking. Her films use the camera as an eye to convey moments and events, merging everyday observations with fantastical and mythological elements. Her most recent solo projects include: Part Two: The moon nearly at the full. The team horse goes astray, Scottish National Galleries, Edinburgh Art Festival (2019) and CAMPLE LINE (2019); Part One: Where there is a joyous mood, there a comrade will appear to share a glass of wine, Cinéma du reel, Paris (2018);Two Tribes, Murray Guy, New York (2016); Electrical Gaza, Imperial War Museum, London (2015); The Painter and the Deliveryman, Objectif Exhibitions, Antwerp (2013); Carlo's Vision, Murray Guy, New York (2013) and Body Habits, Nomas Foundation, Rome (2011) and Sacred and Profane, Peep- Hole, Milan (2011); Woman Behind a Cushion, Tulips and Roses, Brussels (2010); Bachelor Machines, Professional Gallery, OCAD, Toronto (2009); Bachelor Machine Part 2, Statements, Art Basel, (Harris Lieberman, New York) Bachelor Machine, Chisenhale Gallery, London (2007); Five Films, SOFA Gallery, Art and Industry Biennial, Christchurch, New Zealand (2004); Hreash House, Lightbox, Tate Britain, London (2004); and Songs for Home and Economy, CCA, Glasgow (2004).
Nashashibi represented Scotland in the 52nd Venice Biennale, and her work has been included in Manifesta 7, the Nordic Triennial, Sharjah 10 and Documenta 14. She was the first woman to win the Beck's Futures prize in 2003 and was nominated for the Turner Prize in 2017. She is currently Senior Lecturer in Fine Art at Goldsmiths University and is selected for the National Gallery's 2020 Artist-in-Residence.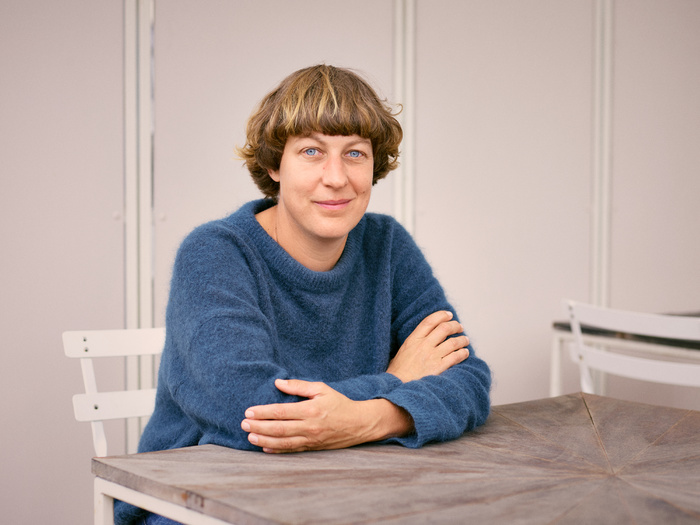 Lucy Skaer
Lucy Skaer (b.1975, United Kingdom) is an artist based in Glasgow and London. Her sculptures, films, paintings and drawings often take found photographic sources as their starting point. Rooted in reality, yet subjected to a process of elaborate transformation, her images hover in the space between recognition and ambiguity, figuration and abstraction. Away in the Hill, GRIMM, New York. Away in the Hill (2019); The Green Man, Talbot Rice Gallery, Edinburgh. (2018); Sentiment, Peter Freeman, Inc., New York (2018); La Chasse, Salzburger Kunstverein. (2018); Lucy Skaer, KW Institute for Contemporary Art, Berlin (2017); Una Casa Más Pequeña, Museo Tamayo, México City, Mexico.(2017); Lucy Skaer, Grimm, Frans Halsstraat, Amsterdam (2017) and Grimm, Keizergracht, Amsterdam (2017) and Sidney Cooper Gallery, Canterbury, (2016); One Remove, Witte de With Contemporary Art, Rotterdam, (2016); Sticks and Stones, Musees Gallo Romains, Lyon (2016); Exit, Voice and Loyalty, Tramway, Glasgow (2013); Lucy Skaer: A proposal for Mount Stuart 2013, Mount Stuart, Isle of Bute, Scotland (2013). Lucy Skaer - Force Justify (Part 3), Kunsthalle Vienna, Vienna (2012); Lucy Skaer, The Fruitmarket Gallery, Edinburgh. Lucy Skaer. (2008); The Siege, Chisenhale Gallery, London (2008); The Opaque, Doggerfisher Gallery, Glasgow (2004); The Problem in Seven Parts, Carl Freedman Gallery, London (2004); and Like a Circle in a Spiral, Transmission Gallery, Glasgow (2001).
Skaer exhibited at the first Scottish presentation at the Venice Biennale, where she also presented in 2007. She was nominated for both the 2003 Beck's Futures prize and the 2009 Turner Prize, and has exhibited internationally. In addition to the Nashashibi/Skaer collaboration, Skaer is a founding member of Henry VIII's Wives artist collective.
Nashashibi / Skaer
Nashashibi / Skaer are artists Rosalind Nashashibi (b.1973, Croydon, UK) and Lucy Skaer (b.1975, Cambridge, UK). Nashashibi/Skaer met in Glasgow and began working together in 2005. They have participated in numerous group exhibitions at venues including; South London Gallery (2015), The Royal Standard, Liverpool (2013) Musée Matisse, Le Cateau-Cambrésis, France (2013): the Metropolitan Museum of Art, New York (2012); Carnegie Museum of Art, Pittsburgh (2010); The 2nd Athens Biennial (2009); the 5th Berlin Biennial (2008); Contour Biennial for Moving Image, Mechelen, Belgium (2007); and Tramway, Glasgow (2005). Recent collaborative solo shows include Art Now at Tate Britain (2008); Spike Island, Bristol (2007); Contour Biennial for Moving Image, Michelen, Belgium (2007); The Metropolitan Museum of Art (2006). They are represented in public collections including The Metropolitan Museum of Art, The Pompidou, FRAC Marseille, and Arts Council Collection, UK and Lux. Recent works have taken exisiting artworks as their starting point, and Nashashibi/Skaer's latest film, 'Why Are You Angry?' utilises Gauguin's vision of the south seas. The film premiered at Documenta 14 (2017), and formed part of a retrospective exhibition for Tate St Ives (2018/19).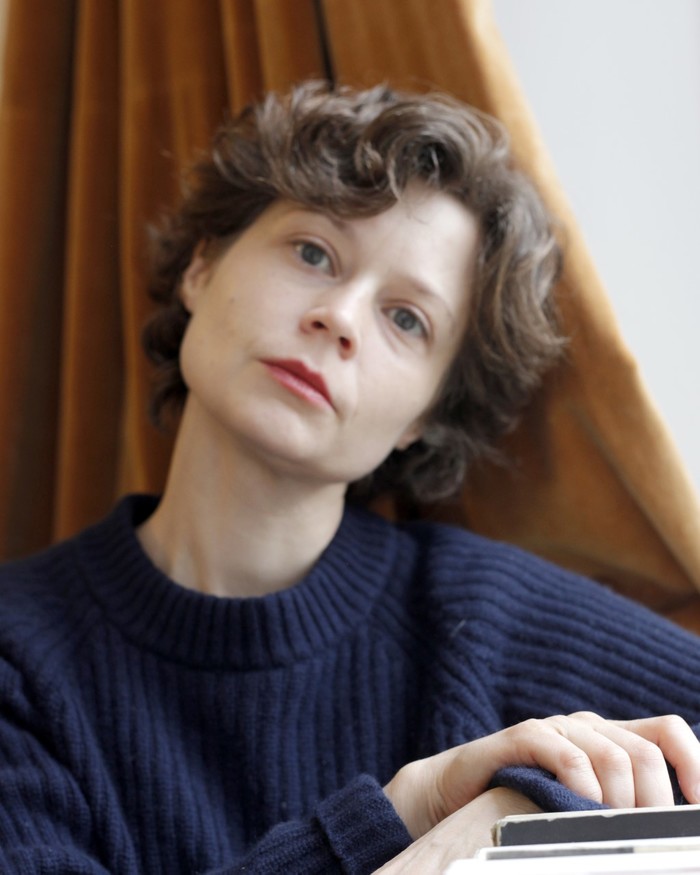 Corin Sworn
Corin Sworn is an artist whose work uses storytelling, material encounters and interactive technologies to explore logistics and connection. She is interested in the history of the gallery as a site for opening technologies while being a communicative apparatus itself. Recent installations have employed architectural augmentation, live feed cameras and surround sound to produce temporary spaces of encounter for collaborative acts. Previous work has depicted: chemical interactions as colour fields; histories of the camera as a means to disconnect knowledge from the body for distribution in industrial logistics, and employed to do lists and artificial sweeteners to explore how assessment techniques built for the assembly line have moved into the subject through notions of self-management and self-improvement.
Recent solo exhibitions include Edinburgh Art Festival, 2019; Gallery Arsenal, Poland, 2016; Toronto Film Festival, 2016; Collezione Maramotti, Italy, 2015; Whitechapel Gallery, UK, 2015; Langen Foundation, Germany, 2015; Sydney Biennial, Australia, 2014. 55th Venice Biennale, 2013; and Tate's Art Now, 2011. Sworn was awarded the Max Mara Art Prize for Women in 2014 and a Leverhulme Prize in 2016. She is Professor of Contemporary Art at Northumbria University.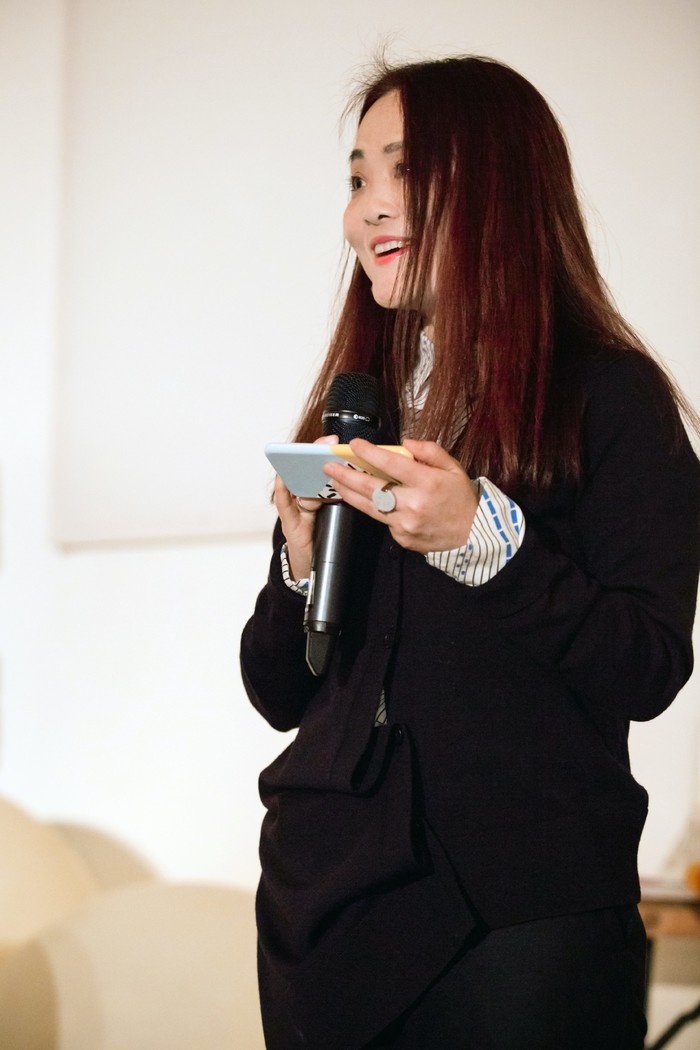 Sophia Yadong Hao
Sophia Y. Hao is Director and Principal Curator of Cooper Gallery at Duncan of Jordanstone College of Art and Design, University of Dundee, where she leads an experimental and integrated curatorial programme with a focus on critical discourse in contemporary art and visual culture.
Appropriating a rhizomatic approach, Hao positions the role of the curatorial as a mode of critical inquiry that engages with culture and the political as an open question. Notable curatorial projects to date include NOTES on a return (2009); a re-contextualisation of Performance Art in 1980s Britain, A CUT A SCRATCH A SCORE: A Comic Opera in Three Parts (2011); a process-led project expanded around a week-long performance by esteemed British artist Bruce McLean, Studio Jamming: Artists' Collaborations in Scotland (2014); a discursive survey that interrogated the legitimization of the grassroots characteristic of artists' collaboration in Scotland, and Of Other Spaces: Where Does Gesture Become Event? (2016/2017) that evokes the political ethos of feminism to reveal the urgency of alternative politics in culture and society. Since 2012, Hao has co-curated the ongoing international touring forum Hubs and Fictions (with Edgar Schmitz).
Hao has published books, articles, catalogue essays, novels and poetry internationally. She is also the founder and editor of the contemporary art journal &labels. Her publications include Of Other Spaces: Where Does Gesture Become Event? (Sternberg Press, 2019), Hubs and Fictions: On Current Art and Imported Remoteness (co-edited with Edgar Schmitz, Sternberg Press, 2016), A CUT A SCRATCH A SCORE (2015) and NOTES on a return (2010). Hao is the founder and Editor of the art journal &labels.
Hao currently serves as a committee member of British Art Network Steering Committee (Tate Britain and Paul Mellon Centre), a member of Art 360 Advisory Group, and a member of Live Art Sector Review Steering Group (Arts Council England). Hao was a selector of the Trinity Buoy Wharf Drawing Prize 2020 and Edinburgh Art Festival's Platform: 2020. She was also a Board Member of Scottish Contemporary Art Network between 2012 – 2018. Hao was awarded the Henry Moore Institute Research Fellowship 2014/15.
Curated by Cooper Gallery, Duncan of Jordanstone College of Art and Design, University of Dundee in the UK in collaboration with leading art organisations in China and organised in partnership with the British Council, CURRENT: Contemporary Art from Scotland is a four-phase contemporary art exhibition programme, showcasing for the first time in China the distinctiveness of contemporary art made in Scotland, its grass-roots spirit and its keen debates with the social dimensions of art and culture.
Phase Four of CURRENT: Contemporary Art from Scotland is kindly supported by the British Council, China-UK Connections through Culture, and The National Lottery through Creative Scotland, Scottish Government. CURRENT is a direct result of the Research and Development Trip (January 2014) funded by Creative Scotland.